Golden Ratio Entry 1 6-24-07
This is the first entry in a series about the golden ratio, a subject I am fascinated with. This will be a briefer section, but in the interest of strengthening and practicing my writing skills, allow me to begin with an introduction to this topic, how I came upon it, and where you can find a vast amount of information on this.
For the mathematically inclined, or for anyone who wants this to be more of a discussion than a lesson, here are some links to start you on the topic:
MCS Golden Ratio / Fibonacci Primer
Wikipedia, why not
Sacred Living Geometry -Enlightened Environmental Theories of Viktor Schauberger
This last link is to a long video with sub par audio quality but an IMMENSE amount of very interesting, practical information. You will be amazed at what was discovered, and then never implemented.
I also suggest right away "The Golden Ratio" by Mario Livio (
Amazon Link
). This is a very good primer for those with any background in mathematics. I am mathematically simple, but I enjoy numbers and code. I have begun a series of images in flash generated by this code (see links at bottom). It's a lot of fun to use these number for art, and I will be going into this a greater deal in writing on my comic, which employs this tool to a great degree.
Golden Ratio, Golden Section.
When a line is split into "extreme and mean ratio", line AB is split at C, at the point where AB/AC = AC/CB. This is simpler visualized:
A ----------------------------------C---------------------B
So the length of the whole line AB
Divided by the longer part of the split AC
Is a quotient equal to the quotient of
The length of the longer part of the split AC
Divided by the shorter part of the split CB
My interest in this was from being introduced to the golden spiral, which is generated with Fibonacci numbers. This is important, because the Fibonacci sequence generates the golden ratio; it is a basic expression of the phenomenon.
1,1,2,3,5,13,21,34,55,89,144
Adding the sum of the previous number to the sum of the previous number and the number before it generates this sequence.
1+1=2+1=3+2=5+3=8+5=13+8=21+13=55+21=89+55=144…etc.
In order to draw this, boxes are drawn with Fibonacci sequence dimensions. The boxes form golden rectangles, which share the phi relationship to each other. By drawing a curve starting from one corner of each box to the other, the curve is formed, and the curves from connected boxes form the spiral. The following image illustrates the construction of the rectangles, curves, and a Nautilus shell, the most common sighting of this shape in nature. Image Borrowed from the website of Dr. Zaven Karian, Denison Math and Science Department.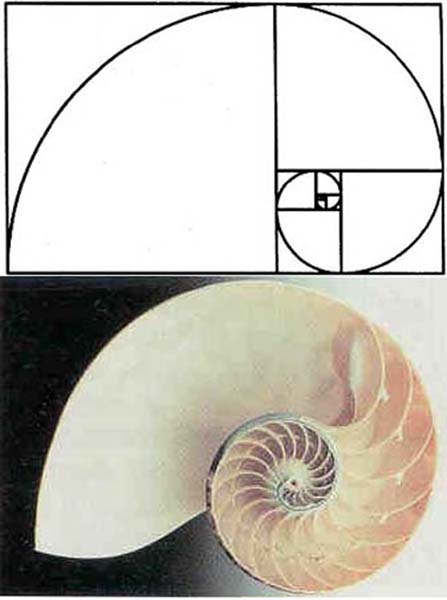 As you can see, this is a very pleasing shape to the eye, as well as an efficient geometric structure.
That is all I will go into in terms of educational material, as I feel that the links I have provided are both better presented and easier to understand. What I would like to present now is a video and some images I composed this weekend while observing a phenomenon in my apartment. I noticed that each room in my apartment is of decreasingly smaller size as you move from my living room to my bathroom. Because the bathroom is central, with walls of the other rooms touching it, moving to the bathroom makes you move in a curve, spiraling in towards the center. I decided to mark the path I was following every day with tape, and then I mapped my house out along a logarithmic spiral (another name for the golden spiral).
Here is the drawing of my house along the curve, which is the path I follow to the bathroom:
I marked this out with duct tape, as I mentioned, and I have a video for you of this.
Alright, I got it to upload, but the compression made it dark as hell so try and follow the shiny parts of the tape with your eyes, I think you can still get the gist of it.